Jónsi & Alex – Riceboy Sleeps
Jónsi & Alex have been making music together in their home since 2003. Initially they wrote music to accompany their videos and eventually they began recording songs for a full length LP.
The result is Riceboy Sleeps – a gorgeous and intoxicating 68-minute instrumental album. The record is played solely on acoustic instruments in Iceland, with appearances by amiina and the Kópavogsdætur choir.
Order Riceboy Sleeps

High bitrate MP3 download.
» ORDER ON ITUNES (USA)

» ORDER ON ITUNES (UK)
» ORDER ON AMAZON (USA)
» ORDER ON AMAZON (UK)


Double LP housed in matte gatefold sleeve with round corners.
» ORDER ON ROUGHTRADE * (Europe)
» ORDER ON AMAZON (UK)
» ORDER ON AMAZON (USA)
* Comes with exclusive mix CD "Rain Down My Favorite Songs"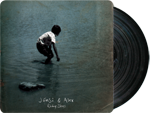 A limited edition of 3500 numbered box sets available excusively on jonsiandalex.com. The box set includes:
– The CD album
– An additional bonus CD of the composition 'All Animals' (33 mins of new music)
– Downloads: Riceboy Sleeps + All Animals
– A 40 page coloring book made up of original drawings by Jónsi & Alex
– A box of six wooden coloring pencils made from sustainable forests
– The original Riceboy Sleeps hardback full color illustrated fine art book, featuring original artwork by Jónsi & Alex. 2nd edition
– A badge
(sold out)
About Riceboy Sleeps
Known primarily for his haunting falsetto and other-worldly presence as the singer in Sigur Rós, Jon Thor (Jónsi) Birgisson has – together with his partner Alex Somers – been exhibiting artwork and staging exhibitions under the name Riceboy Sleeps for two or three years now. A couple of months back the early fruits of the musical side of this collaboration surfaced in physical form for the first time, with the track 'Happiness', on the exemplary 'Dark Was The Night' Red Hot compilation.
Among such company as Antony Hegarty, Arcade Fire, Sufjan Stevens and many more high and mighty names besides, it says something that Jónsi & Alex's sparse and haunting instrumental contribution was picked out by many people who-ought-to-know as the apex of the record – especially given that the track was neither finished nor mastered when the deadline came around.
Now, however, the full-length 'Riceboy Sleeps' album (the name having migrated from artist moniker to album title) is finished and ready for release. And, as with 'Happiness', it is set to subtly redefine expectations of slow and elegiac instrumental music in 2009.
'Riceboy Sleeps' is human in a profound and verging-on spiritual way. It says nothing, literally, and yet living through its 68-minutes you emerge feeling much has been revealed. Its slowly evolving abstract landscapes are both edifying and life-affirming. The record works as a whole, and exists in a contemplative dream-state, unconstrained and mesmeric, seemingly outside time.
The record, however, is more active than its apparent antecedents in the ambient output of Brian Eno, and other deliberately low-impact works. 'Riceboy Sleeps' is awash with both tension and stimuli, as well as being frequently, and stunningly, beautiful. A piece like 'Daniell In the Sea' feels as natural as breathing, or more precisely like being able to breath fresh air after a long period spent in stagnant confinement. In fact both 'Daniell…' and 'Sleeping Giant' appear to feature actual breathing, albeit through some kind of underwater respirator.
This filtering function of making the world seem at once alien and as-new, is perhaps the strongest sensations to be derived from listening to 'Riceboy Sleeps'. Jónsi & Alex's artwork has always been intoxicated with the notion of innocence (as in many ways is his work in Sigur Ros, although the only musical comparisons here would be with the band's most blissed-out atmospheric songs), so it is perhaps not surprising that this washed-clean sensation should ring clear from this startling record.
Played solely on acoustic instruments in Iceland (and featuring long-time string collaborators Amiina, as well as the Kopavogsdaetur choir) and then endlessly toyed with on solar-powered laptops in a raw food commune in some far corner of Hawaii, 'Riceboy Sleeps' has a suitably, uh, "organic feel" to it; the wave-like lapping of its tidal flow buried beneath analogue hiss, crackle, pulse and distortion; the creaking of rigging and sometime indeterminate falling delicately over; and, on 'Howl', ruminative animal chirrups, grunts, snorts and purrs.
Sometimes it feels like a record coming back at you across the seas of time, with ancient Washington Phillips-style tumbling musical figures and stumbling crescendos as slow as a sunrise, or a weightless mantra-like choir singing from somewhere in the Middle Ages down the centuries.
(Press release, 2009)
Reviews
» BBC Music: "Riceboy Sleeps operates at a heady level of beauty"
» Dusted Magazine: "Everything happens slowly, easily, inevitably. Each song fades to white, not black."
» The Economist: "…an idyllic labour of love that's rich in glistening detail"
» Evening Standard: "…it's up there with the best of Sigur Rós" ****
» musicOMH: "…one of the most beautifully arresting and emotionally redolent albums of 2009" ****1/2
» The Guardian: "…a delicate, sad, little record, but one that ripples with beauty" ****
» The Independent: "A featherlight enticement" ***
» The Observer: "…beautifully fragile music, not disposable but built to last" ****
» The Times: "Go back to Jonsi's "proper" band afterwards and they almost seem brash by comparison" ****