Monday, July 20th, 2009
In between recording music and making artwork, Jónsi & Alex love to dabble in the kitchen and experiment with raw food making. As some of you already know, they are both certified raw food chefs and have collected some of their own recipes in The Good Heart Recipe Book for you to flip through or download.
We are now happy to make available the first segment of the Jónsi & Alex Recipe Show, where the raw food chefs themselves will show you how it's done and demonstrate how they make some of the recipes from the book. Hopefully this will provide some guidance for those of you interested in experimenting with raw food. The first segment will show you how to make Macadamia Monster Mash, a nut paté which tastes really good in tomatoes and bell peppers.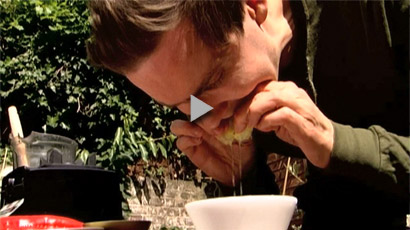 Jónsi & Alex Recipe Show – Macadamia Monster Mash