Thursday, July 23rd, 2009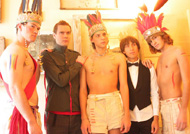 On July 20th 2009 Jónsi & Alex held a special event in London where they launched their album and opened a new art installation at the same time. Topless boys in elaborate old school shorts and headgear served Icelandic vodka Brennivín as guests listened to the album while perusing Jónsi & Alex's visual art. Jónsi & Alex also set up a tent installation in the space and filled it with black balloons and thick white strings, tree branches and leaves to catch video projections made by the duo.
The installation is open at Maison Bertraux (28 Greek Street. Soho) until the end of September, so feel free to drop by and take a look.
» Photos from the event
» Dazed & Confused article
» Woolf & Wilde article
» The Mirror article