Thursday, July 23rd, 2009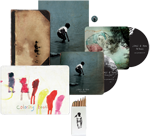 Just a note to inform Special Edition Box buyers that the package is shipping now, and should make its way to you shortly. You should by now have received the download link to the Riceboy Sleeps album. If you purchased the Special Edition and haven't received the link in your inbox, send us an email and we'll take a look.
There are still a few of the limited and numbered Special Edition boxes left so head over to the Store if you want to get your paws on one of these last copies.