Friday, September 25th, 2009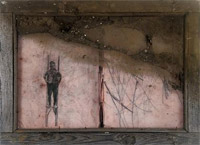 Jónsi & Alex's art exhibition in London has proven popular and can now be enjoyed for another month. Those of you that haven't been to view it now have until end of October to go see it upstairs at Maison Bertaux in Soho (28 Greek Street). While you're at it, you should sample the most exquisite and world renowned cakes made onsite. If anyone is interested in any of the artwork please email Tania.
For more information on the exhibition please visit hooliganartdealer.com.