Wednesday, November 18th, 2009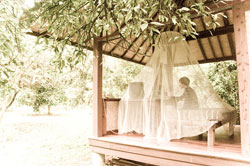 In early 2009 Jónsi & Alex spent a month in a jungle in Hawaii mixing Riceboy Sleeps on solar power. The boys fed solely on the fruits, nuts and vegetables surrounding them in the jungle while they completed the album in a hut they rented.
In the Gallery section you can now catch a glimpse of this unusual Hawaiian getaway, where you will find some photos the boys took during their trip, as well as a short travel log by Jónsi.