Wednesday, January 13th, 2010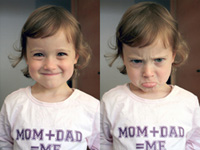 After taking a good while to go over each and every submission carefully, Jónsi & Alex have now picked the winner and five runners up of their Coloring Competition. Jónsi & Alex were amazed at the quality of the submissions and how much work went into them, and would like to thank all those who took part in this fun project.
When we contacted the first prize entrant, it turned out the artist behind the winning picture is a very creative 4 year old girl from Germany named Annika, pictured right. J&A were impressed by the rough feel of Annika's drawings and her amazing use of color.
Annika's father Rüdiger sent us Annika's imaginative story behind the picture she sent in, which you can read through the link below (where you can also browse through all the entries we received in the competition).